You may attract a low-usage fee if you stop using your devices, therefore if you plan to take a break, or stop using your devices for any reason, we recommend you contact our support team to advise of the best option for you. This can be done either via email at support@ingogo.com.au, through our 'chat' option in your driver app or our live chat through our website.
Once you have contacted our support team to let us know that you would like to hand back the machine, you will receive a return email (Terminal Return Authorisation)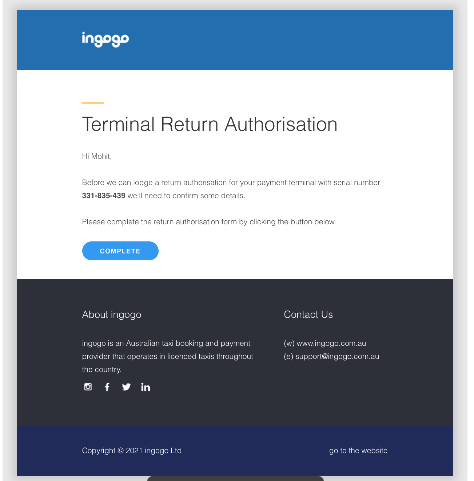 You will be asked to complete the above email by uploading some images of your terminal.
Once the images have been uploaded and your asset return has been completed, you will receive another email which will include a consignment number along with instructions on how to return the terminal. (the return postage is a FREE service)