In Australia, you're almost guaranteed of at some point riding in a taxi – in Sydney, Brisbane, Melbourne, as well as other capital and large city centres.
Are taxi's the same the world over? The answer is, in many ways, no!
Yes, taxis are available almost everywhere in the world – from Bangkok's pink cabs to New York's yellow taxis. But there are some very unique taxi experiences you can only have in certain countries.
Here are seven of the world's coolest, most unexpected, and unique taxis…
Mumbai, India
The exterior of Mumbai taxis are black and yellow, but the interior of these cabs is a treat. Local drivers with the Premier Padmini Cab Company showcase their personal sense of style with lavish, plush interiors – think images painted onto the back window, colourful logos, and elaborately decorated upholstery. These old-style cabs are not air-conditioned, and are gradually being phased out for newer, less personalised cars. There are fewer than 1500 left operating.
Bangkok, Thailand
Regular cabs in Bangkok are bright pink, but there is a unique Thai taxi experience for anyone feeling brave. A three-wheeled Tuk Tuk is an auto-rickshaw, and tourists pay more to ride in these than in a normal metered taxi. Be prepared – riding in a Thai Tuk Tuk will involve driving fast, bumping over potholes, weaving amongst traffic, and holding on for dear life!
Tokyo, Japan
Tokyo taxi drivers take their profession very seriously. They wear white gloves, chauffeur hats, and are impeccably dressed. They even open the back door on your behalf with a special device in the front – and tipping is not only not expected, it is considered poor form.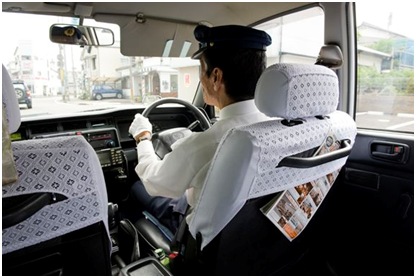 Yokohama, Japan
Are you not in a rush, and prefer to slow down and enjoy the ride? In Yokohama, your cab will have a "Yukkuri" button in the back. It tells your driver that you're in no hurry – so your ride will be smoother, more eco-friendly, and potentially safer.
Havana, Cuba
A Cuban taxi ride is almost guaranteed to be in a vintage car – these cabs are unique, stylish and likely to have been in use as taxis for well over half a century. You may share a ride previously used by Desi Arnaz, Andy Garcia, or Ernest Hemingway…
Mexico City, Mexico
A Mexico City icon is no more – but it was great while it lasted. Retired in 2012, the Mexico City fleet of cabs to that point were bright green VW Beetles. Small, uncomfortable, and not great for the environment, they were nonetheless a unique Mexico City landmark.
Moscow, Russia
Moscow reportedly now has the highest number of billionaires in the world. A Moscow taxi may well be a Porsche Cayenne or a Maybach 62. Muscovites demand the best and a fast trip to boot. There are only a small number of these particular cabs in the city, so book early to request one of these cars.
For the very best
taxi booking in Sydney
or any other Australian capital city, choose ingogo for a fast, convenient, professional taxi experience.