While a Sydney taxi (or one anywhere in Australia for that matter) is usually quite comfortable, we don't have a unique and instantly recognisable taxi design. This is not the case everywhere; some places have very notable taxi designs, and perhaps the most iconic, instantly recognisable taxi in the world is the London Black Cab.
The London Black Cab is today a purpose-built TX4. Manufactured by The London Taxi Company, these cabs are also known fondly as "hackneys". The TX4 is the latest in a range of London cab designs, which has evolved from the original Austin FX3 which was popular in the 1950s.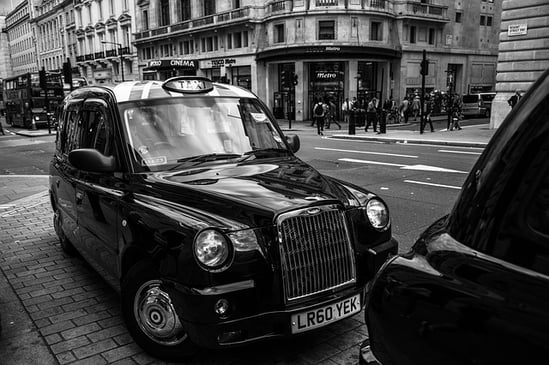 Iconic London Taxi
Four-door saloon vehicles were traditionally popular as London cabs, however today many are being modified to adapt for wheelchair use. London's black cabs also have a very small turning circle of just seven and a half metres; this was purpose-created so that cabs could navigate the tiny roundabout at the entrance of the famed Savoy Hotel.
London's black cab drivers need to pass an incredibly difficult test known as The Knowledge to prove their intimate knowledge of London's streets and landmarks. They must be able to decide best routes immediately on hearing a passenger's destination and taking traffic conditions into account. They cannot expect to rely on a map or satellite navigation device. It remains the most challenging and demanding taxi driver training course worldwide, and takes almost three years on average to pass. It includes 320 standard London routes, and 25,000 streets within a six mile radius of Charing Cross. Drivers must also know more than 20,000 landmarks, including all points of interest, hotels, squares, hospitals, theatres, stations, restaurants, cemeteries, churches, etc.
Did you know?
There are currently 25,000 black cabs operating in London.
Most London black cabs are driver-owned
Taxi drivers in London are not legally obliged to give change
According to tradition, a new London cabbie's first ride is given for free – no matter how far it takes the passenger.
Fifty golden cabs were produced to celebrate the Queen's Golden Jubilee in 2002
In 2015, Londoners elected the black cab as their favourite transport icon.
London's oldest cab driver, Alfred Collins, retired in 2007 at the grand old age of ninety-two. He had been driving a black cab for seventy years.
Prince Phillip, the Duke of Edinburgh, uses a black cab for anonymity when travelling in London; his cab has been converted to run on liquefied petroleum gas.
The London Mayor proposed a fund to encourage the owners of black cabs to upgrade their vehicles to be low emission, for example electric taxi cabs.
To book the best Sydney taxi, choose ingogo for service, quality, and convenience.