Travelling safely and efficiently for work is something that affects businesses and employees all over Australia, but no more so than in our busy capital cities. It's crucial that business travel, whether it is locally for meetings, or to and from the airport for more distant travel, is managed efficiently, planned ahead, and receipted properly.
Taxis represent the most practical way of travelling (aside from flying) for business travel purposes. It's critical that businesses choose taxi services that offer a premium, superior service, with fully licensed, insured, and registered drivers and vehicles. Security when travelling is essential, and the ability to book in advance with a reliable service provider is crucial.
Here is where it simply makes sense to choose ingogo for all business travel by taxi in Sydney, Brisbane, Melbourne, Adelaide and Perth. Ingogo is a taxi booking app and website that rivals all other taxi and ride-share services for quality service, convenience and affordability.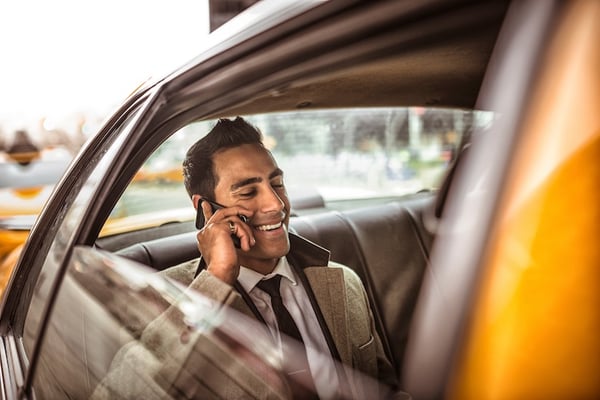 (Image: Frankreporter/istockphoto.com)
Why Choose ingogo for Business Travel?
All ingogo taxi drivers are fully licensed, registered, and hold insurance for commercial vehicles. All cabs by law must have security cameras, and all drivers log into our system prior to commencing their shift. Drivers are rewarded with generous commissions for providing our service.
By combining the efficiencies of ingogo's automated expense management and Fixed Fares, businesses can save up to 20% on all staff travel.
ingogo offers a unique Fixed Fare system providing certainty prior to booking a taxi. Staff are taken to their destination quickly and via the best value route, with all credit card fees and tolls included, no more to pay. There is no surge pricing so the fare a passenger books for is all they pay at the end of their trip, regardless of any unexpected delays.
ingogo is the answer for companies looking to save on expense management processing. Staff travelling with ingogo receive automated email receipts, which are convenient, eliminate a paper trail, and save staff and your accounts department both time and money. Any business that uses the Concur expense management system can eliminate processing all together by instructing their staff to link their Concur account to their ingogo app account. All future receipts are then automatically posted to Concur.
Taxi booking, management, billing and reporting are centralised with ingogo for Business. Users can be added or removed easily, allowing administrators system control and transparency over who is incurring taxi expenses and how.
ingogo for Business allows for simple management of staff travel needs and makes it easy to identify fraudulent transactions if these should ever take place. Travel policies can also be applied to every staff member to ensure travel only takes place within company approved times.
Staff can earn 1 Qantas Frequent Flyer point per $1 spent when they book a taxi with ingogo. Why not?
ingogo for Business is free to implement. You only pay standard travel fees.
Never again will staff need to be concerned about losing a receipt, waiting in taxi queues, or filling out expense claims. They can book from their desk, know when the taxi is arriving, save time and enhance productivity, and even earn Qantas points while they travel! Choosing ingogo for Business simply makes sense.