We've talked in past articles about why taxis are such a great way to travel, and we've explained why the ingogo app is such an innovation in taxi booking in Sydney, Brisbane, Melbourne, Perth and Adelaide. More and more passengers are discovering for themselves how beneficial ingogo is and how convenient it can be to book, track, and pay for your fixed fare taxi instantly via your smartphone.
In today's blog article, we're changing things up a little, and taking a fun and hopefully informative look at some about taxi trivia
In no particular order, did you know…???
– There are four different forms of taxi: taxibuses, limousines, hackney carriages, and private hire vehicles.
– "Hack" is a slang term for a taxi driver; it originates from the London black cab which was known as a hackney carriage
– The words "taxi" and "Taxicab" entered the English language in 1907
– The word "cab" comes from "cabriolet"; this was a fast, two-wheeled carriage used for public transport by the French in the early 1800s.
– London taxi drivers must complete a three year testing process to be licensed.
– Just one percent of London taxi drivers are women.
– Iconic London black cabs have inordinate amounts of headroom. It's claimed that this was so that gentlemen need not remove their bowler hats while travelling.
– Black London cabs afford anonymity for celebrities as they travel and some actually own a black cab for this reason. These include Kate Moss, Stephen Fry, and reportedly the Duke of Edinburgh.
– Until 1976, London taxis were required by law to carry a stack of oats and a bale of hay. Strange but true!
– In London, it is illegal to this day to hire a taxi if you have the bubonic plague. It's also illegal to use a taxi to transport a corpse or a rabid dog.
– New York City cabbies attend class for 40 hours to learn conversational English, etiquette, and city geography prior to becoming certified to drive.
– New York taxi drivers are reputed to be the best storytellers, entertaining passengers with anecdotes and tall tales.
– The first taxi company in the USA was the United Arab Emirates Taxicab Co.
– New York also has the highest proportion of female taxi drivers worldwide.
– Currently in the US, taxi drivers face a $200 fine if caught using their mobile phone while driving.
– Seattle taxi drivers are prohibited by law from wearing tracksuits, shorts, sweatshirts or sandals while they are working.
– The most educated taxi driver in the world is said to be Singapore's Dr Cai Mingje. He is an internet celebrity and publishes both books and an online blog.
– According to surveys, the most expensive taxi service in the world is that of New Zealand's airport taxi service.
– Finnish taxi drivers must pay royalties if they play music for paying customers.
– Taxis can be hired to courier important packages and documents.
Book your Sydney taxi with ingogo for the very best taxi service: for reliability, fixed fares, pre-booking 48 hours in advance, convenience, and no surge pricing!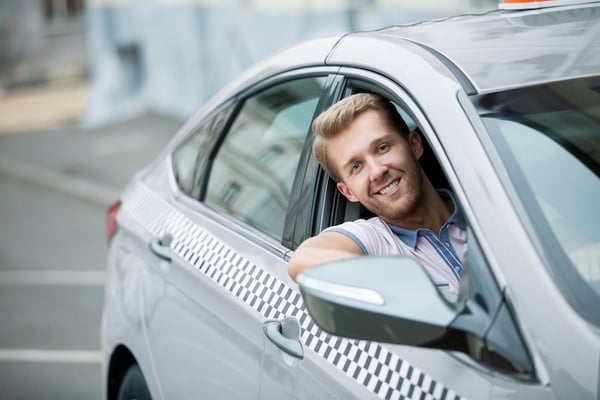 (Image: AboutLife/shutterstock.com)