Is there anything more exciting than going to the airport to embark on a holiday? Maybe that 6 am red-eye flight for business comes close? Whether you're flying within Australia or going overseas, going to the airport is the first step on your adventure.

But is there anything more frustrating than having to park your car at the airport for exorbitant fees? Or worrying about the surge pricing of your Uber? Or being concerned that your taxi won't turn up on time?

Booking an ingogo taxi in advance to take you to the airport is the answer.

Here are five reasons why you should take a taxi through ingogo when you need to go to the airport.
1. Convenience
With ingogo, you can book your airport taxi up to 48 hours in advance of your ride. You need not be concerned with booking a taxi on the day of your trip; you don't need to worry about parking your car, paying parking fees for another person to drop you off, or anything else to do with getting to the airport. And with ingogo, you can watch your approaching taxi on a map or communicate directly with your driver over the phone so you know exactly when they will pick you up.
2. Save Time
Taking an airport shuttle service might seem like a good idea, but consider this: most shuttles will pick up a number of clients in a single trip. You will likely be travelling out of the way en route to the airport to pick up other passengers, requiring side trips. Each side trip takes time and provides the opportunity for more traffic hold-ups. There is no guarantee you'll get there on time. (This writer has experienced this first hand in the past, almost missing an international flight because the shuttle arrived more than an hour later than scheduled).

Taxis can travel in bus lanes and skip straight past the traffic, Ubers are not allowed to do this.

With a pre-booked taxi, you avoid this stress altogether – you know you will be picked up on schedule and delivered to the airport promptly.
3. No Surprise Fees
Driving to the airport not only often involves tolls; it also means parking. The costs for this can be a shock even when you expect to be stung at the pay station. When you book a taxi with our ingogo app, you know there are no surprises at all. Your quoted Fixed Fare is all-inclusive and will not be any more than the quoted price before you book. Payment is also processed via credit card automatically – no fuss, no hidden fees, no parking stress allowing you to jump straight out when you arrive.
4. Skilled Drivers
Airports are invariably located in busy cities and these can be very stressful to drive to if you're not used to heavy traffic. Your fully licensed and insured taxi driver has the skill and experience to get you to the airport without stress. They are accustomed to heavy traffic and know all the shortcuts to avoid traffic snarls if there is a hold-up on the road.
5. Peace of Mind
Why start your vacation or work trip in a stressed mood? You may not be a "happy flyer", but you can at least arrive for your flight feeling rested and calm.

With ingogo's Sydney, Melbourne, Adelaide, Perth and Brisbane taxi booking service, you need never stress again about getting to the airport on time. Check out what we offer today – and don't forget, with every eligible taxi booking and ride, you will earn Qantas Frequent Flyer points!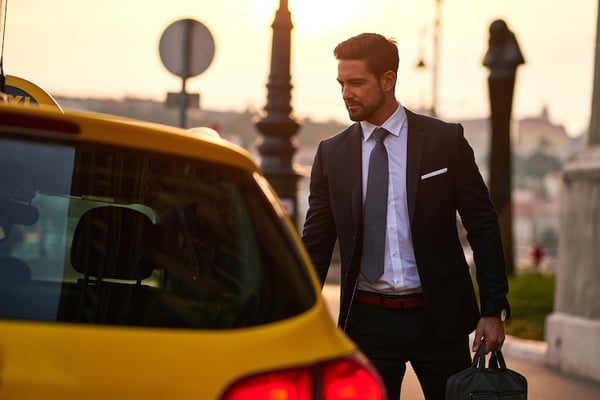 (Image: Spectral Design/shutterstock.com)